Happy Birthday Dear Jared! May you have more wonderful birthdays to come! May you grow healthy and God fearing kid. Stay cute and loving kid!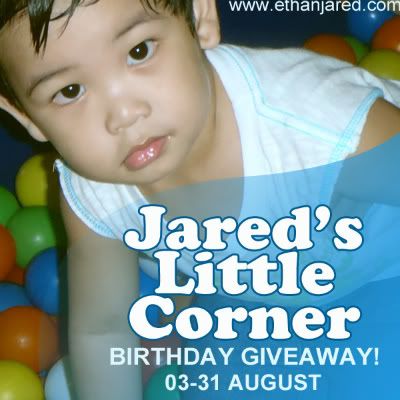 I think having a celebration is a good way to say thank you for another year especially for kids. I myself as a mom love to celebrate birthdays of my kids. From the time they were born, monthly I am buying them a cake just a simple celebration and thanksgiving for their every milestones. You don't have to celebrate it so fancy, there's always a way to celebrate it simple yet memorable.
How can you celebrate Jared's Birthday in Unique and Exciting way?
I also have a son who just celebrated his birthday last January in Jollibee with superhero costume party theme. I chose jollibee because I know He loves Jollibee, I chose superhero costume theme because he said he is superman. So the point is, I based everything on what he really wants and not just my choice. I wanted my son to be happy in his special day, and if you want you kid to be exciting, you should know well what might Jared really wants. What's his weakness? Does he love? I have read that he loves several cartoon characters, he also love animals and reading books. If he really loves animals, I have a suggestion to celebrate it in a zo0 with your family and let him experience feed the animals like what the Avilon Zoo is doing or in Zoobic Safari! I love both of that zoo! But if you really want a party, you can have it in a place where you can set up a mini zoo, I have a friend before celebrated her son's bday with JUNGLE THEME. They have it in their backyard. Rented some animals and set up the house like a jungle, they costume is like a hunter costume. Every guests are allowed to take pictures with the celebrant and the animals available such as goat, birds, rabbit, guinea pigs and snakes. The guests can feed the animals too instead of a party games. It was a fun and unique birthday I've ever seen. Another way for jungle is no need for animals. It's more like DIEGO theme. He can dressed up like a hunter or diego. You can set up a mini jungle in your garden or parking lot. Think of a games like DIEGO used to do like hunting. Make photos of animals and scattered it around the area. And a lot more games that is fun! Don't forget to make JARED participate in the game coz this is his day so he is supposed to be a star! I hope you can choose a nice theme for your kid soon but this
Jared's Little Corner Birthday Giveaway
is already a unique one! Great Job and you're lucky to have a very generous friends to support you:
Major Sponsors
Minor Sponsors
General Sponsors
Goodluck to everyone!