Another fabulous GIVEAWAY I am longing to win!!!!
Eeidhra
of
One Proud Mama
is celebrating her blogs first year anniversary! She will be giving the MAJOR prizes to the TOP 4 participants who garnered the most entries while minor consolation prizes will be drawn using random.org or she'll let her kids pick out from the fish bowl (1 item per winner) which is also I am going to do with my giveaways coz that's more fun! :D
Check out the PRIZES!!!
The Prizes
(MIGHT be updated for additional items)
Major, Major Prizes
Tory Burch Bags
Cartier Bags
Minor, Minor Prizes: (I'm loving this,lol)
Furano Mango Tops by November
Furano Top and Assorted Perfumes
Consolation Prizes: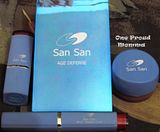 San San Make-up
I WANNA WIN!! I WANNA WIN!
Thank You to all SPONSORS
You might wanna join too until it was extended!!!
Here's what you will do to win....
** REQUIRED TASKS

Create a BUZZ

about this awesome contest. You can blog about it as many times as you want provided that only

ONE POST PER BLOG

and

NO COPY/PASTE

please but the sponsors' list. This is to ensure that all participants will work on their posts using their own words and so as to avoid getting flagged for duplicate content. FB Notes are not allowed for some secret purpose,lol. (5 raffle entries )
Sponsors' List MUST be included in your blog posts. You can copy/paste the list (only this list). All links MUST be DOFOLLOW and CORRECT. If you don't know how to make it as DF, you may check out my instructions HERE.
LIKE my FB Pages below: ( 1 raffle entry each )
Make Money Online and Beyond * One Proud Momma * Samut-Sari * Foodies Galore * Earn Dollars Pinoy! * What's UP?! * Chizmiz to the Max

SUBSCRIBE TO MY FEEDS VIA EMAIL. Make sure that you click on the confirmation link. ( 1 RAFFLE ENTRY Each )
JOIN NOW!!!